Photovoltaic: Origin and Future
Back | Technical Report published on 09/29/2015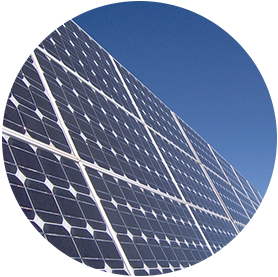 Photovoltaic: Origin and Future
The idea of taking advantage of photovoltaic energy began in 1839 with the discovery by French physicist Alexandre Becquerel of the phenomenon of current generation through light incidence. Due to being an abundant energy and not generating any type of waste, this type of generation has taken its space in the market, being the target of studies in different research institutes around the world. To get an idea of the potential, in certain areas of the globe, the solar radiation intensity (irradiance) reaches 1 kW per square meter.
Currently, photovoltaic cells have conversion efficiencies of around 16%. There are even some with efficiencies up to 28%, made of gallium arsenide, however, due to their high cost, these solar cells are limited to production for use in the space industry.
Because it is a source of intermittent generation, in many cases the generators seek to store energy to provide a stable supply, even at night or when there is less sunlight due to weather conditions. In this issue, electrochemical batteries have played an important role.
A great example comes from Japan, where the companies Mitsubishi Electric and NGK Insulators are building in Fukuoka, also in Japan, the world's largest solar energy storage system with a capacity of 50 megawatts.
Once built, this year, this will be the largest storage system of its kind in the world, although there are similar facilities in other Asian countries and Italy, which are of smaller capacity. Thus, Japan aims to increase production of renewable energy from 22% to 24% of the total by 2030, almost doubling the current level.
The search for generation systems from renewable resources as a means to be freed from dependence on other sources, as well as ensure stable supply, has been the mission for many countries. The trend is that such movement will become stronger in the coming decades.