Vehicle Hybridization
Back | Technical Report published on 09/27/2016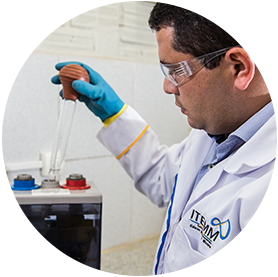 Laboratórios de Pesquisa
In a motor vehicle, the "powertrain" is associated with the main components that generate and supply power for vehicle traction. This includes the engine, transmission, drive shafts, differential and final drive (wheels on cars, tread on military tanks or crawler tractors).
Currently, the primary source of vehicle propulsion is the internal combustion engine, which is powered by fuels such as gasoline, diesel, ethanol, CNG, among others. With the increasing environmental concern and also the depletion of oil reserves in the world, we saw the need to adapt the "powertrain" so that it enables the inclusion of new energy sources.
Thus, technologies have been developed for use in hybrid vehicles. These utilize the benefits of electric motors and combustion for a more efficient car with less fuel consumption and, consequently, with less gas emissions from the combustion. To make this integration possible, one of the components that most evolved was the battery since the energy demand on it would be greater than just the vehicle ignition and maintenance of electronic components.
The lowest degree of hybridization is found in hybrid vehicles called micro and mild. The battery technology used in these vehicles is the lead-acid due to its cost-effectiveness and the fact that it would always be operating with the internal combustion engine. The micro vehicles, also known as start-stop, turn off the car engine whenever it is stopped and then start when required by the driver. Because of this intense operation, the battery has been enhanced to allow this high number of starts. The mild vehicles, beyond allowing start-stop operation, use regenerative braking to recharge the battery from the vehicle's kinetic energy, and it allows the electric motor to act together with the combustion engine to provide power to the vehicle.
The vehicles with the highest degree of hybridization are full and plug-in. Since in both, the battery should be able to pull the car without the assistance of an internal combustion engine, this had to be modified again. For these types of automobiles, the required energy density is incompatible with that of lead-acid. In such cases, a nickel-metal hydride battery (NiMH) or lithium-ion is used. The difference between these technologies is the possibility of the plugging-in the battery to be recharged from an outlet, that is, it is possible to supply power to the accumulator through a source outside the vehicle.